Valuable Information By Dawn Weatherwax, RD, LD, ATC, CSCS, CSSD
Sports Nutrition Guide for
Young Athletes
Available as an Ebook, the Weatherwax's book provides 60 recipes ideal for everyday eating and competition. A quick and easy read on hydration, pre- and post-game ideas and everyday fueling.
The Complete Idiot's Guide to Sports Nutrition
A complete overview on sports nutrition specific to sport and training demands. This book offers an inside perspective on metabolism and dives into the nitty gritty in juggling your carbohydrates, proteins and fats to maximize your performance.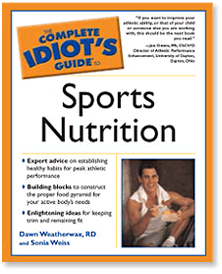 Dawn is the Nutrition Columnist for Swimming World Magazine. Swimming World Magazine is a multimedia company that began as a newsletter back in 1952, before becoming the longest-standing monthly magazine in aquatics on January 1960. It has since expanded to include timely print, web, video, and social content. Read some of her articles below!